Lake Norman Real Estate Market Report: September 2023 Performance Analysis
Posted by Phoebe Williams on Thursday, October 5, 2023 at 10:50:05 PM
By Phoebe Williams / October 5, 2023
Comment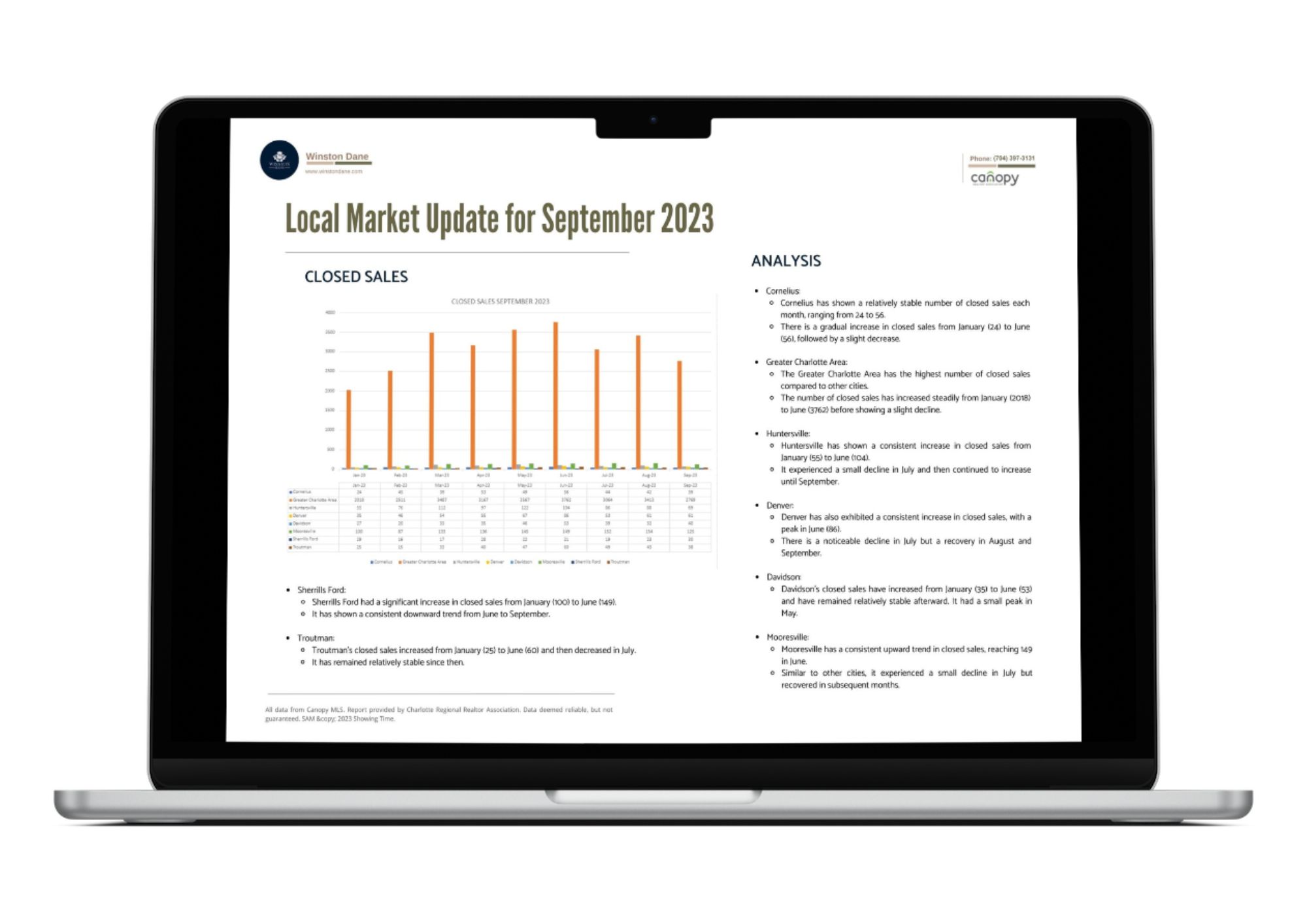 The Lake Norman region, nestled in North Carolina, has long been known for its picturesque lakeside communities, vibrant real estate market, and diverse housing options. As we delve into the performance of the Lake Norman real estate market for September 2023, we'll take a closer look at individual cities, including Cornelius, Huntersville, Denver, Davidson, Mooresville, Sherrills Ford, Troutman, and the Greater Charlotte Area (Charlotte MSA). This comprehensive report will provide insights into key metrics such as home sales, price trends, days on market, and pending sales, helping you navigate the dynamic Lake Norman real estate landscape.
Cornelius: A Steady Market
Cornelius has maintained a stable real estate market in September 2023. The average days on market (DOM) stands at 30, indicating a balanced pace. The median sales price is $501,000, showcasing steady appreciation. Buyers and sellers can expect a well-balanced market with minimal fluctuations in pricing and competitive yet manageable DOM.
Huntersville: Strong Demand
Huntersville's real estate market remains robust with consistent demand. The median sales price increased from $515,000 in January to $540,000 in September. Despite some fluctuations in pending sales, the market appears steady. The average DOM is between 20 and 30 days, making it a favorable environment for buyers and sellers alike.
Denver: Balanced Market Dynamics
Denver offers a balanced real estate market. With average DOM ranging from 28 to 45 days, and median sales prices consistently close to $475,000, this city provides stability for buyers and sellers. While there have been some fluctuations, Denver maintains a balanced supply-demand equation.
Davidson: Appreciation Continues
Davidson's real estate market has shown steady appreciation, with the median sales price rising from $590,000 in January to $616,400 in September. The average DOM ranges from 26 to 45 days, indicating a balanced yet slightly seller-favoring market.
Mooresville: Consistent and Stable
Mooresville's market is consistent and stable, with the median sales price hovering around $450,000 throughout the year. The average DOM ranges from 28 to 38 days, suggesting balanced market dynamics.
Sherrills Ford: Some Price Variability
Sherrills Ford has seen some price variability, with the average percent of the original price ranging from 90.5% to 97.3%. Buyers may find opportunities for negotiation in this market. Pending sales have fluctuated, indicating a dynamic environment.
Troutman: Steady Growth
Troutman has experienced steady growth, with the median sales price increasing from $343,950 in January to $372,900 in September. The market maintains a balanced pace with average DOM ranging from 37 to 54 days.
Greater Charlotte Area (Charlotte MSA): Active and Stable
The Greater Charlotte Area, encompassing Cornelius, Huntersville, Davidson, Mooresville, Sherrills Ford, and Troutman, maintains an active and stable real estate market. With consistent demand and stable pricing, this region offers a diverse range of opportunities for buyers and sellers.
Conclusion
As of September 2023, the Lake Norman region continues to provide a vibrant and diverse real estate landscape. Each city within the area offers unique advantages and challenges, making it essential for buyers and sellers to consider their preferences and objectives. Whether you're seeking steady appreciation, a balanced market, or opportunities for negotiation, Lake Norman's cities have something to offer.
In this dynamic real estate environment, staying informed and working with a knowledgeable real estate professional can make all the difference. As the market evolves, Lake Norman remains a sought-after destination for those seeking a beautiful, lakeside lifestyle.