Lake Norman Real Estate Market Analysis: October 2023 Performance Overview
Posted by Phoebe Williams on Friday, November 10, 2023 at 9:26:35 AM
By Phoebe Williams / November 10, 2023
Comment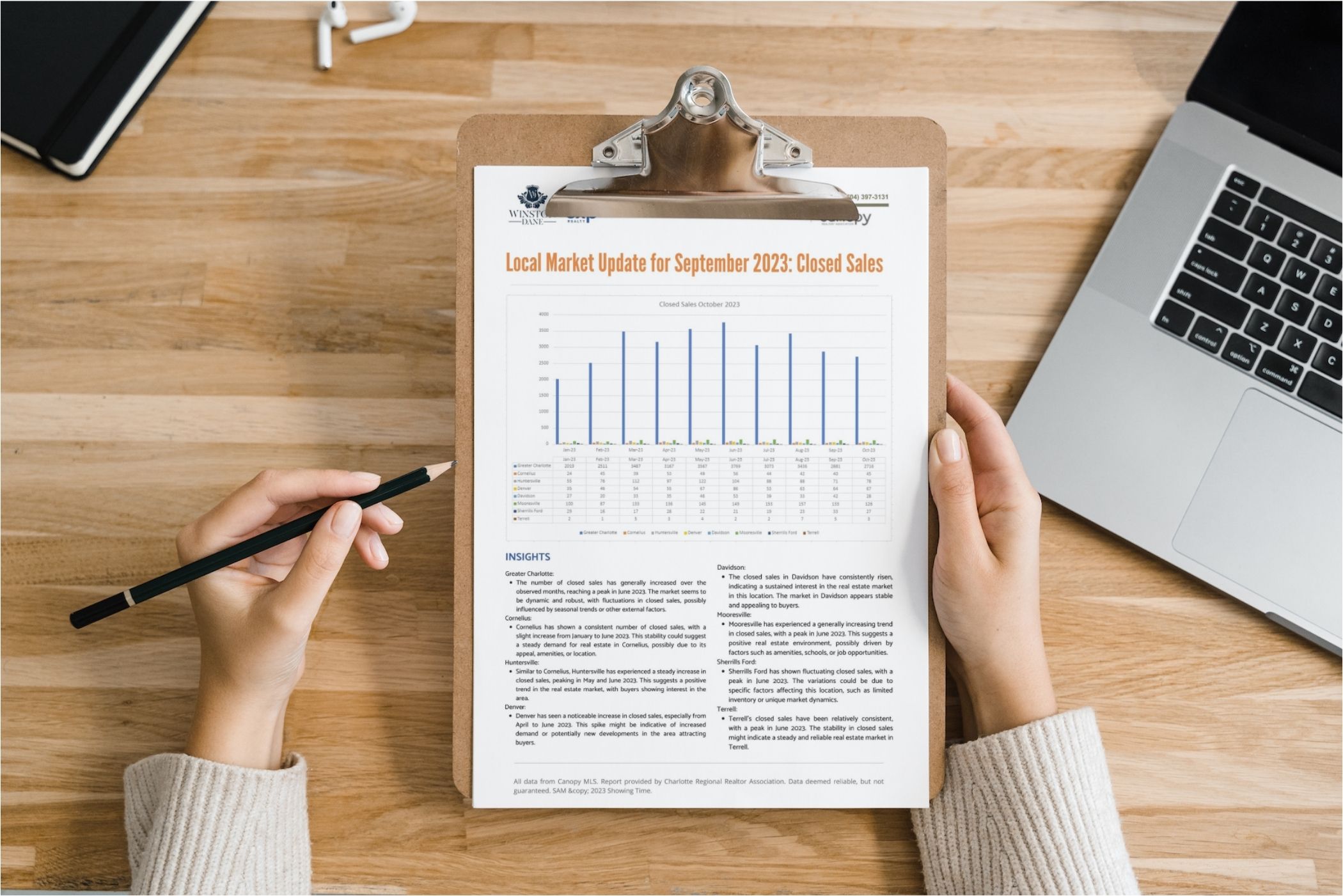 The Lake Norman real estate market, situated in the picturesque Greater Charlotte area, has been a focal point for homebuyers and sellers seeking waterfront properties and a serene lifestyle. As of October 2023, the market exhibits a dynamic landscape, characterized by various factors influencing buyer demand, property prices, and overall transaction dynamics. In this comprehensive analysis, we delve into key performance indicators to offer insights into the state of Lake Norman's real estate market.
Overall Market Trends:
The Lake Norman real estate market continues to showcase resilience and stability, reflecting a nuanced interplay of supply, demand, and economic factors. The comprehensive evaluation of performance metrics reveals a well-balanced market that caters to the diverse needs of both buyers and sellers.
Closed Sales Performance:
Analyzing the closed sales data for October 2023 provides a nuanced understanding of how different locations around Lake Norman are faring in terms of completed transactions. Overall, the market reflects a healthy number of closed sales, with Huntersville, Davidson, and Mooresville emerging as standout performers. These locations exhibit consistent closed sales numbers, indicative of sustained buyer interest and market activity.
New Listings Impact:
The influx of new listings is a pivotal factor shaping market dynamics. In October 2023, the Lake Norman area witnessed a surge in new listings, with Cornelius and Mooresville leading the way. The increase in available properties suggests a robust real estate environment, providing prospective buyers with a diverse range of options. This influx may also contribute to a more competitive landscape among sellers.
Months Supply of Homes for Sale:
Examining the months' supply of homes for sale provides valuable insights into the balance between supply and demand. The data for October 2023 indicates a generally stable market, with most locations maintaining a balanced supply of homes. While some areas, such as Mooresville and Sherrills Ford, show a slight uptick in months supply, the overall trend suggests a well-regulated market where neither buyers nor sellers hold a significant advantage.
Homes for Sale and Inventory Levels:
The number of homes available for sale in Lake Norman showcases varying trends across different locations. Mooresville stands out with a notable increase in inventory, potentially offering buyers an extensive array of choices. Conversely, areas like Cornelius and Davidson maintain relatively stable inventory levels, reflecting a consistent market landscape.
Median Sales Price Dynamics:
The median sales prices in Lake Norman demonstrate nuanced patterns, with Davidson experiencing a slight increase, while other areas maintain stability or a marginal decline. This suggests that while some locations may see appreciation, the overall market is relatively balanced, providing both buyers and sellers with reasonable expectations.
Average Days on Market and Negotiation Dynamics:
The average days on market (DOM) data reveals that Lake Norman generally maintains a brisk pace, with properties selling within a reasonable timeframe. Cornelius and Davidson stand out with shorter average DOM, indicating strong demand. However, the increasing trend in DOM for some areas, such as Sherrills Ford and Terrell, implies a potential shift in negotiation dynamics, favoring buyers.
Average Percent of Original Price:
Analyzing the average percent of the original price provides crucial insights into negotiation outcomes. The Lake Norman market shows a mixed picture, with some areas experiencing a decrease in the average percent of the original price. This may suggest a market where buyers have more room for negotiation, impacting sellers' pricing strategies.
Pending Sales and Future Market Activity:
The number of pending sales in Lake Norman signifies future market activity. Despite some fluctuations, the overall stability suggests sustained buyer interest. Areas like Mooresville and Cornelius continue to attract potential buyers, indicating positive prospects for the upcoming months.
Conclusion:
In conclusion, the Lake Norman real estate market in October 2023 reflects a resilient and adaptable landscape. While some areas exhibit signs of appreciation and strong demand, others showcase a more balanced environment with opportunities for negotiation. The market's overall stability, coupled with diverse inventory options, positions Lake Norman as an attractive destination for both homebuyers and sellers. As we move forward, staying attuned to these dynamic trends will be crucial for making informed decisions in the ever-evolving Lake Norman real estate market.