How to Prep Your Entire Thanksgiving Meal in Advance
Posted by Phoebe Williams on Thursday, November 18, 2021 at 12:33 AM
By Phoebe Williams / November 18, 2021
Comment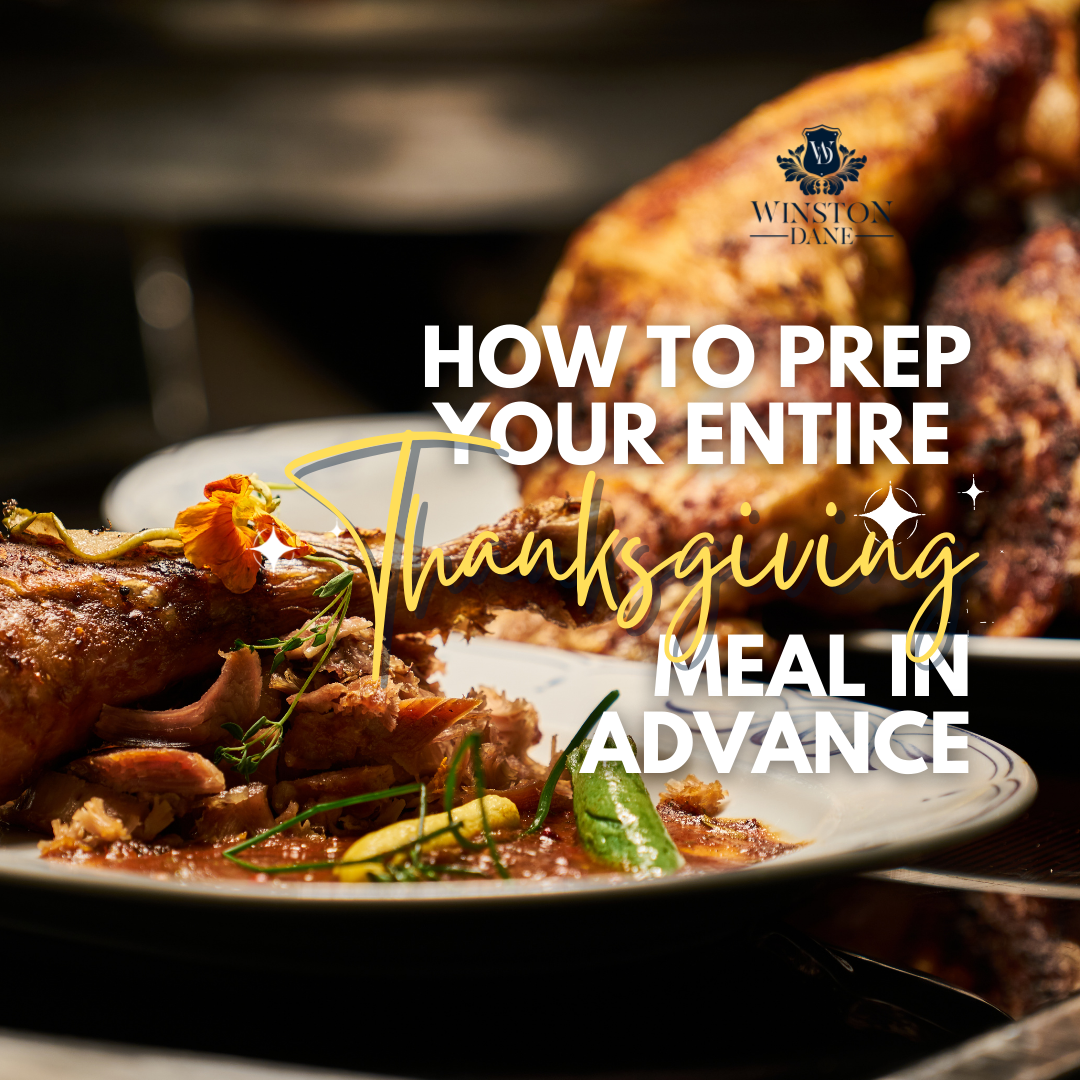 Thanksgiving dinner preparation might be hectic, but it doesn't have to be! A professional chef shares how to plan ahead of time for your meal so you can spend less time preparing on the big day.
Professional chefs are well-versed in food preparation. The hours leading up to dinner service are spent chopping, slicing, and dicing. Soups, sauces, and side dishes are even prepared ahead of time and reheated to order, ensuring that your meal arrives at your table as promptly as possible. The easiest approach to stay out of the weeds on the line is to prepare ahead of time, but that notion isn't limited to restaurant food. Almost every item for your Thanksgiving feast can be prepared ahead of time. We'll show you how to do it:
TURKEY
Cook and carve the turkey a day ahead of time if it's the most stressful portion of your Thanksgiving meal. The next day, carve the turkey using your preferred manner (we're grilling ours this year). Cover it tightly with aluminum foil and chill it, spooning more chicken stock or turkey drippings over the cut meat to keep it lovely and moist. Remove the turkey from the fridge on Thanksgiving and reheat it in a 300° F oven for 45 minutes. You'll still have beautiful roasted turkey odors filling the kitchen, deceiving your guests into thinking you spent all day preparing.
If you don't want to miss out on slicing the turkey in front of your guests, you can still prepare it ahead of time. Brining the turkey two to three days before Thanksgiving Day is all it takes. Remove it from the brine the night before the big occasion and set it in a roasting pan with sliced onions, carrots, and celery, if desired. You can leave the chicken in the refrigerator uncovered overnight or cover it lightly with plastic wrap for 24 to 48 hours. Before putting the turkey in the oven, allow it to come to room temperature.
GRAVY
Do you believe you must cook gravy on Thanksgiving Day? Reconsider your position! Make a gravy with chicken stock and store it in the refrigerator a day or two before Thanksgiving. After the turkey has been roasted, add a cup or so of white wine or chicken stock to the roasting pan and allow it to boil to release all of the delicious turkey drippings. Then, pour in your prepared gravy and continue to cook until it has thickened and warmed thoroughly.
MASHED POTATO
Mashed potatoes are usually made last on Thanksgiving Day because they taste lighter and fluffier when mashed right before serving. However, there are a few things you can do to make it easier to get there. Peel and quarter your potatoes a day or two before Thanksgiving and keep them refrigerated in water. Boil them in salted water until they're soft when pricked with a fork a few hours before dinner. Simply leave them in the boiling water until you're ready to mash them.
You may also mash the potatoes ahead of time and keep them warm for up to four hours in a slow cooker. To prevent the potatoes from scorching to the bottom of the pan, toss them once an hour. When you're ready to serve, drop in a little more melted butter or hot cream and whisk them up with a silicone spatula to bring them back to life.
STUFFING/DRESSING
Stuffing is one of those recipes that tastes better the next day after Thanksgiving, so why not start making it a day ahead of time? Prepare your favorite stuffing recipe, but cut the liquid in half. After placing the ingredients in the baking dish, cover it with aluminum foil and place it in the refrigerator overnight. Add the remaining liquid the next day and bake it as usual.
CRANBERRY SAUCE
Did you know that homemade cranberry sauce can last for 10 to 14 days in the refrigerator? That seems like a good excuse to finish it before the big meal. Make your cranberry sauce with fresh or frozen cranberries, then chill it until ready to serve.
GREEN BEAN CASEROLE/SWEET POTATO CASEROLE
Without a couple casserole side dishes, Thanksgiving would be incomplete. Because these dishes normally fight for oven space with the turkey, it's a good idea to start preparing them ahead of time. These meals can be baked the day ahead, with any crispy toppings prepared but set aside in a separate container. Remove the casserole from the refrigerator when ready to eat and allow it to come to room temperature to avoid cracking. Cook until the toppings are warmed through, then add them.
CORN PUDDING
Corn pudding is best served the day it is made, but that doesn't mean you can't make it ahead of time. In fact, allowing the flavors to meld overnight in the refrigerator is beneficial. Place the ingredients in the baking dish and mix well. Instead of putting it in the oven, wrap it in plastic wrap and store it in the fridge. Before baking the casserole dish on Thanksgiving Day, allow it to come to room temperature. When it's done baking, wrap it in aluminum foil and keep it warm on the counter until ready to serve.
SALADS
The salad is one of the few items on the dinner table that should not be prepared ahead of time. When seasoned with an acidic dressing, greens wilt quickly, so toss them right before serving. However, you can prepare the salad dish ahead of time by chopping the vegetables and preparing the dressing. If it sounds like too much labor, make a salad like coleslaw or macaroni salad that can be made ahead of time.
DINNER ROLLS
Dinner rolls freeze well, so you could make them up to a week ahead of time. You may freeze already made rolls and reheat them in the oven, or you can freeze portioned-out dough and bake the rolls from scratch.
PUMPKIN PIE OR PECAN PIE
When it comes to dessert, you'll have a few alternatives. A no-bake pie can be made ahead of time and kept refrigerated. You can also bake and freeze traditional pumpkin or pecan pies weeks ahead of time. Allow the pie to get to room temperature on the counter by thawing it overnight in the refrigerator. Serve them at room temperature or reheat them in the oven just before serving.
Disclaimer: This article is originally posted in https://www.tasteofhome.com/article/how-to-prep-thanksgiving-in-advance/