Experience Unforgettable Father's Day Moments in Lake Norman!
Posted by Phoebe Williams on Wednesday, June 7, 2023 at 8:43:29 AM
By Phoebe Williams / June 7, 2023
Comment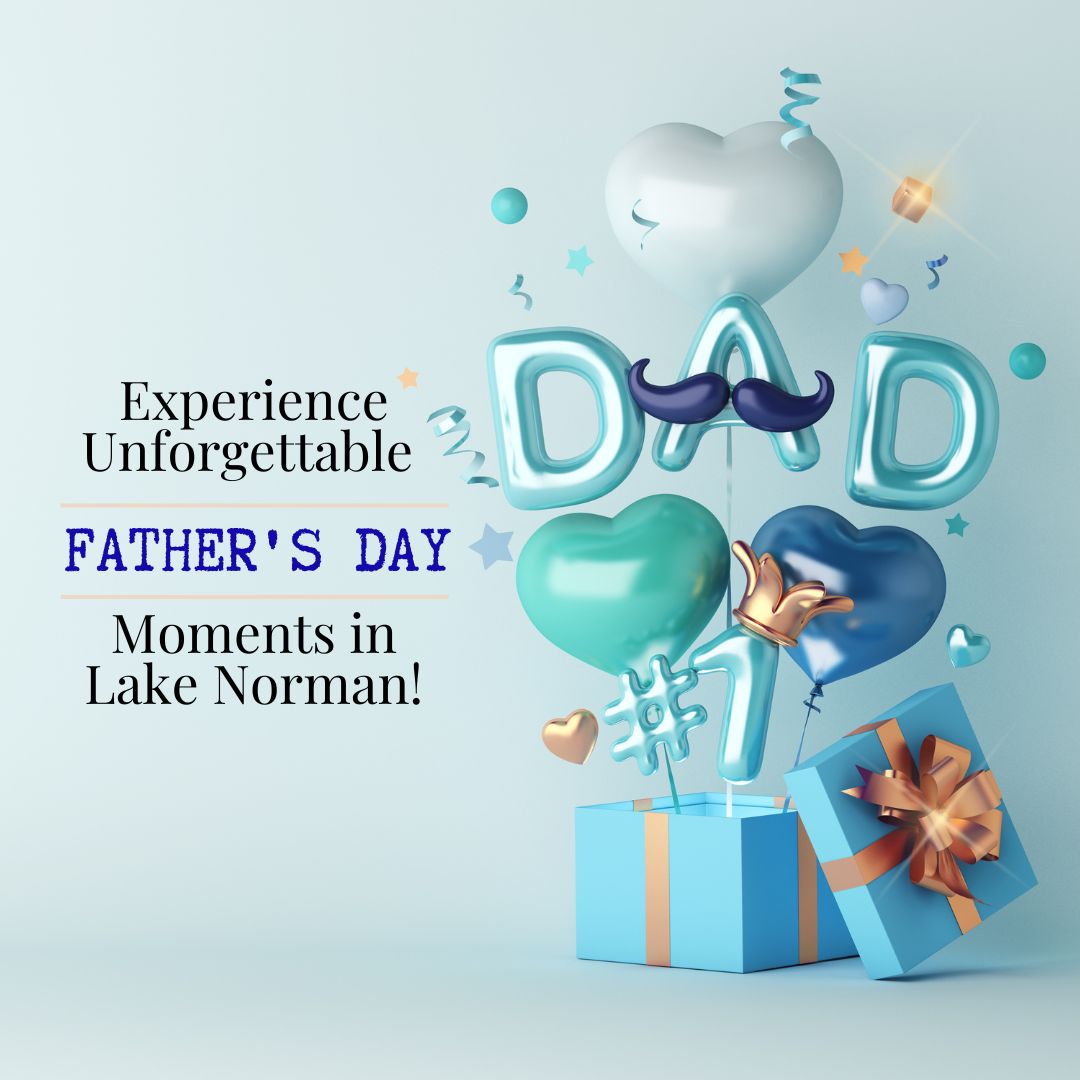 Father's Day is just around the corner, and Lake Norman is the perfect destination to honor the extraordinary father figures in your life. We've curated a list of incredible ideas to ensure this Father's Day is the best yet! Whether you're casting lines at Ramsey Creek Park, mastering a hole-in-one at Lake Norman Mini Golf, or indulging in delightful dining options, there's something for everyone to create unforgettable memories on this special day. Join us in making this Father's Day a truly memorable celebration in beautiful Lake Norman!
Start the day right with a scrumptious breakfast and energizing coffee in Lake Norman!
Indulge in a delightful morning meal at one of the many fantastic restaurants in the area. Visit The Fresh Egg for a delicious brunch featuring their delectable menu, or savor an early lunch with their famous Reuben sandwich. For those in need of a caffeine boost, make a stop at Summit Coffee Roastery for a freshly-brewed cup of coffee that will kickstart your day.
Take Father's Day to the next level by treating Dad to a special lakefront Sunday brunch at North Harbor Club. Enjoy scenic views while savoring a delectable meal with your loved ones.
If the restaurants are bustling with activity, consider opting for take-out and create a relaxed picnic atmosphere at one of our local parks. Jetton Park or Roosevelt Wilson Park are perfect choices for enjoying a peaceful outdoor setting while savoring your delicious meal.
2. Embark on an Adventurous Day on Lake Norman!
Calling all adventure-loving dads! Lake Norman offers a plethora of exciting activities to satisfy your thrill-seeking spirit. Explore the great outdoors along the scenic trails and greenways, such as the Latta Nature Preserve and the West Branch Rocky River Greenway, which now connects to Fisher Farm Park. These expansive areas provide ample space for hiking, biking, and running, ensuring an active and invigorating experience.
For a relaxing afternoon on the water, consider booking a pontoon rental that accommodates the whole family. Alternatively, immerse yourself in watersports by renting paddleboards, kayaks, or canoes from Long Island Paddle Sports or What's Up Watersports. If you're seeking a more exhilarating adventure, unleash your inner speed demon with a thrilling jet ski ride from Lake Norman Jet Ski Rentals.
Already have your own kayak or paddleboard? Drive to the Latta Nature Preserve and launch from one of their convenient access areas. The North Canoe Access even provides an ADA-accessible launch platform, allowing everyone to enjoy the calm cove.
3. Tee Off for a Memorable Father's Day on Lake Norman's Golf Courses!
Take Father's Day to new heights with a round of golf in the stunning surroundings of Lake Norman. Our region boasts world-renowned courses that offer exceptional experiences for golf enthusiasts. One such course is Skybrook Golf Club, where you can enjoy a challenging and enjoyable game. Reserve your tee times conveniently online to secure your spot.
If you're looking for a more casual and fun-filled golfing experience, head to Lake Norman Mini Golf or Frankie's of Charlotte, where you'll find exciting and well-designed mini-golf courses. Engage in friendly competition with Dad and the family, keeping score and even setting up a friendly wager to add some extra excitement to your game.
Whether you choose a full-sized golf course or a mini-golf adventure, spending quality time on the fairway is a fantastic way to celebrate Father's Day. Enjoy the beauty of Lake Norman's surroundings while engaging in a friendly golfing experience that will create lasting memories with your dad.
4. Delve into History: Discover Lake Norman's Rich Heritage with Dad!
For Father's Day, immerse yourselves in the captivating history of Lake Norman. If your dad is a history enthusiast, embark on a memorable journey by following our historical drive checklist. Prepare in advance by reading our blog, which provides insightful information about the various landmarks you'll encounter along the way. Share fascinating stories and facts with your dad as you pass by these historical sites, enriching your journey with knowledge and connection.
To satisfy your curiosity about historic buildings, head to Davidson and indulge in the self-guided Davidson Historical District Walking Tour. Explore the charming streets and admire the architectural gems that hold a significant place in local history. Continue your historical exploration in Cornelius, where you'll find two walking tours that offer insights into the town's past. These immersive experiences provide an opportunity to connect with the heritage of the area and deepen your appreciation for the past.
Additionally, take a moment to honor the local heroes who have bravely served our country. Visit Huntersville's Veterans Park or the Cornelius Veterans Monument, where you can reflect and pay tribute to the sacrifices made by those who have protected our freedom. This patriotic pause provides a meaningful and heartfelt experience for Father's Day.
Uncover the hidden stories and landmarks that shape Lake Norman's rich heritage, and make this Father's Day a journey through time. Immerse yourselves in the region's captivating history and create lasting memories with your dad as you explore together!
Check out these Father's Day Activities and be sure to mark your calendars!
Disclaimer: This was originally posted at https://www.visitlakenorman.org/blog/post/how-to-enjoy-fathers-day-in-lake-norman/