Charlotte advances in the Milken Institute ranking of best-performing cities, rallying behind Raleigh and Wilmington.
Posted by Phoebe Williams on Tuesday, May 23, 2023 at 9:15 AM
By Phoebe Williams / May 23, 2023
Comment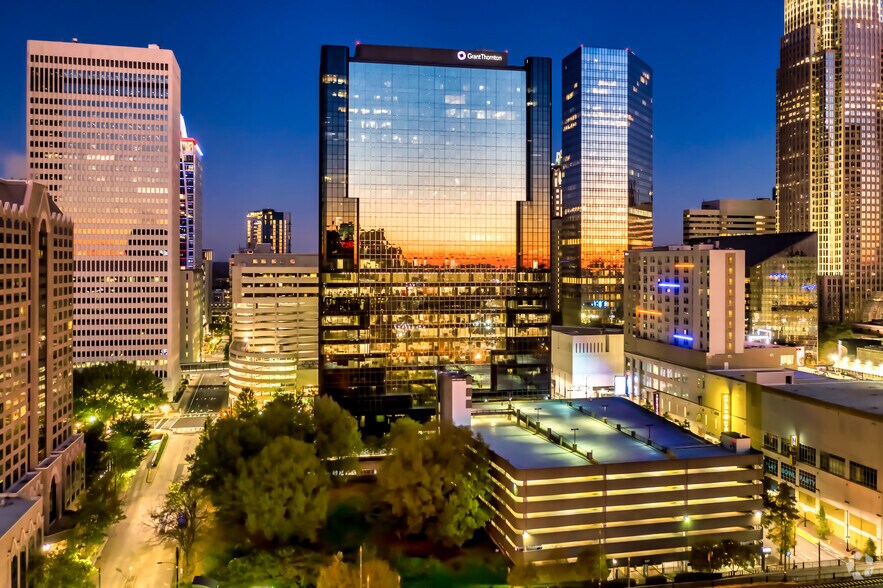 Charlotte has once again made it into the top 20 of a national economic performance index that ranks U.S. metropolitan areas.
However, three cities in the Carolinas surpassed Charlotte in the rankings. In the 2023 Milken Institute Best-Performing Cities Index, Charlotte secured the No. 20 spot, climbing 11 places from last year's No. 31 and surpassing its 2021 rank of No. 26. This marks Charlotte's highest position since 2020 when it ranked No. 16.
The index, published by the Milken Institute, evaluates cities based on their ability to leverage resources for economic growth and provide essential services and infrastructure to residents. It considers categories such as job creation, wage growth, high-tech growth, housing affordability, and household broadband access. The rankings primarily rely on 2021 data, representing the first full year of recovery following the COVID-19 pandemic.
Large and small cities are categorized into five tiers to facilitate comparisons of economic performance. Charlotte is classified as a Tier 2 city, the same as the previous year. In the ranking of large cities, both Raleigh and Wilmington surpassed Charlotte, securing the No. 3 and No. 7 positions, respectively. These cities were designated as Tier 1 cities. Myrtle Beach, classified as a Tier 2 city, ranked at No. 12. Charlotte's performance in the index highlights its resilience in the face of pandemic challenges. The city experienced significant short-term job growth, moving up to No. 7 from No. 121 in 2022.
This growth was primarily driven by the recovery of industries that were heavily impacted by the pandemic, such as transportation, warehousing, leisure, and hospitality. However, Charlotte's high-tech sector fell behind the national average in one-year and five-year GDP growth, causing its rank to slip in these categories compared to the previous year. The Carolinas, as a whole, performed remarkably well in the 2023 rankings, with several cities ranking in the top tiers.
Following Charlotte, other notable metropolitan areas in the Carolinas include Charleston at No. 24, Durham-Chapel Hill at No. 29, Greenville, South Carolina at No. 45, and Asheville at No. 47. Asheville experienced the most significant gain, moving up 118 spots from the previous year. Among small cities, only Burlington, North Carolina, achieved Tier 1 status, ranking at No. 14. Hilton Head and Jacksonville were classified as Tier 2 small cities in the Carolinas, ranking at No. 40 and No. 59, respectively. The national findings revealed common themes among the top-performing cities in 2023.
These cities exhibited strong and growing high-tech industries, a rebounding leisure and hospitality sector, and above-average broadband access. However, housing affordability remained a concern, and many small cities struggled to provide adequate broadband access for residents. Despite the challenges posed by COVID-19, U.S. cities continue to drive the nation's growth. The metropolitan areas included in the rankings accounted for a significant portion of the country's GDP and population.
Provo-Orem, Utah, retained the top spot among large cities for the third consecutive year, attributed to strong job growth, wage growth, and an expanding high-tech sector. It was followed by Austin, Raleigh, Nashville, Boise, Dallas, Wilmington, Phoenix, Fayetteville, and Palm Beach. All of these cities were designated as Tier 1. Among small cities, there were 14 Tier 1 cities, with Idaho Falls, Logan, St. George, The Villages, and Bend-Redmond leading the pack. Atlantic City experienced the highest overall increase in the rankings, rising 131 spots to No. 53, primarily due to the recovering leisure and hospitality sector.
Conversely, Lincoln had the most significant decline, dropping 115 spots to No. 141, mainly due to declines in short-term measures such as job, wage, and GDP growth.
For more details and the full list, visit the Charlotte Business Journal article at bizjournals.com.
Disclaimer: Credits to the author. This article was originally posted at Charlotte trails Raleigh, Wilmington on list of top-performing cities - Charlotte Business Journal (bizjournals.com).