Celebrities in Lake Norman
Posted by Phoebe Williams on Monday, May 15, 2023 at 12:59:36 PM
By Phoebe Williams / May 15, 2023
Comment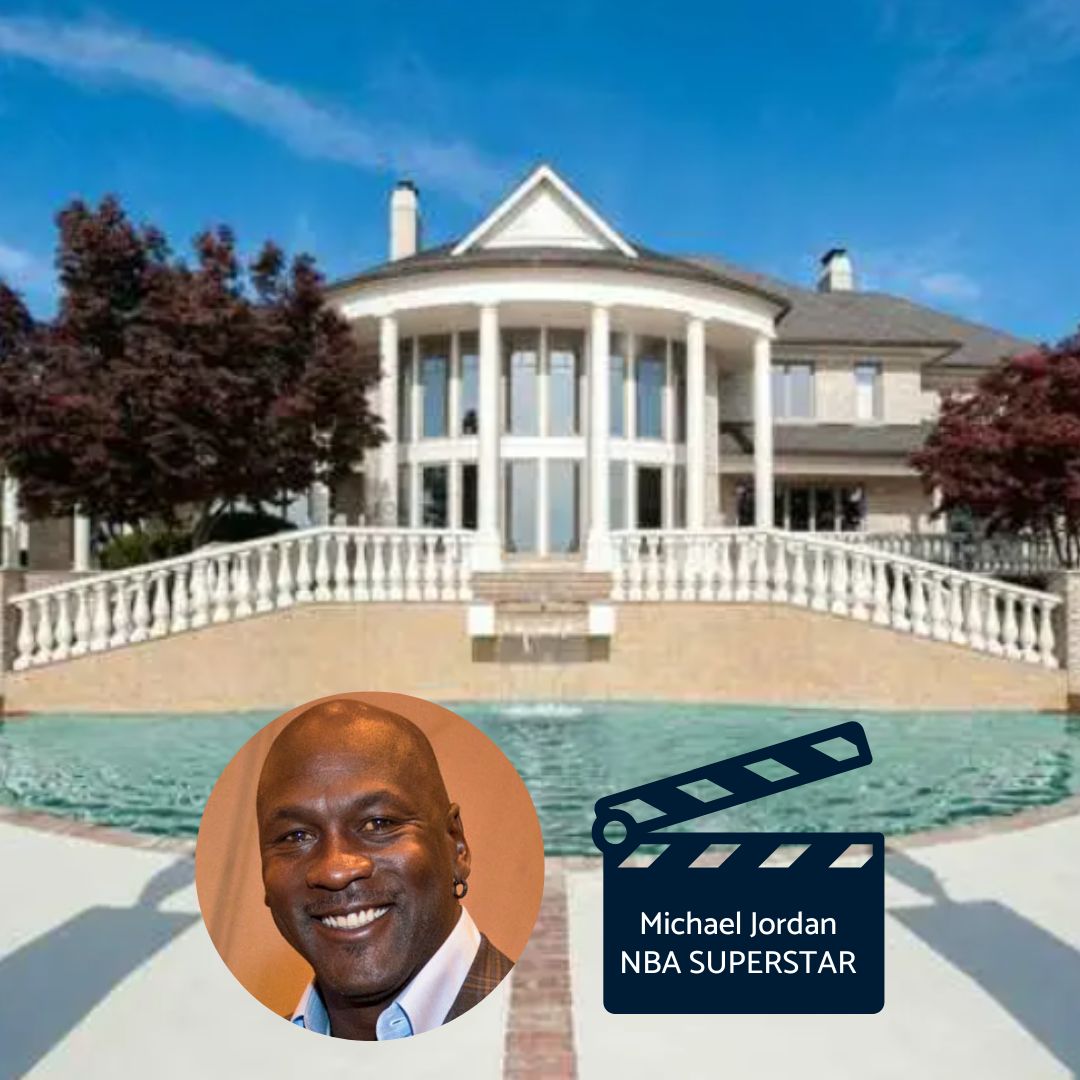 Celebrities in Lake Norman
The scenic Lake Norman area offers a plethora of opportunities to spend some quality time with your loved ones or take a brief respite from the real world. While Charlotte boasts its share of glitz and glamour, the lakeside Charlotte neighborhood Lake Norman, also known as the "Inland Sea," is the abode of numerous A-list celebrities and eminent figures. During your stay in the vicinity, whether as a local or a visitor, you may come across an array of personalities, from legendary sports stars to your favorite Tinseltown faces, while waiting at a traffic signal or grabbing a bite at a cafe. However, one celebrity who towers above them all and has redefined the game of basketball with his unparalleled skills and achievements is none other than Michael Jordan.
NASCAR
Bubba Wallace will compete for 23XI Racing in the NASCAR Cup Series, which was founded by Denny Hamlin and Michael Jordan. They made plans public for the Huntersville location of the team's headquarters. A hotel, flex space, 300 residences, and commercial space are all part of the mixed-use development.
Due to its proximity to Charlotte, the racing industry's hub, the Lake Norman region is home to a large population of NASCAR drivers. Numerous drivers currently reside on or have previously resided around the lake. In fact, Brad Keselowski has had an autograph signing at the Galway Hooker Irish Pub, so he is not a stranger to the neighborhood.
The 200-acre estate Dale Earnhart Jr. owns is just outside Mooresville, putting the 15-time most popular NASCAR racer near Lake Norman. Kyle Busch, the current Cup Series champion, and Tony Stewart, two other well-known figures in the racing world, have both resided on Lake Norman.
Michael Waltrip can be found along the lake as well. You may have seen him on Season 19 of Dancing with the Stars. The Friday before the fall races is the Joe Gibbs Racing Fan Fest, where you can meet the JGR team and obtain their signatures. Rusty Wallace, Joey Logano, Chris Buescher, Danica Patrick, Kasey Kahne, and other well-known drivers have also been spotted nearby. You never know—you might end up stopping next to them at a stop sign!
2. Movies & TV shows filmed Around Lake Norman
Racing Wives, which airs on CMT, shines a spotlight on some of the most well-known NASCAR drivers' personal lives, including Kyle and Kurt Busch and their spouses. You may observe how their ladies strike a balance between providing for their husbands and families and pursuing their own aspirations. The show also includes Whitney Ward Dillon and aspiring race car racer Amber Balcaen.
Talladega Nights, a comedy movie with John C. Reiley and Will Ferrell, features the Ricky Bobby ballad. At Charlotte Motor Speedway, scenes were filmed both on the track and in the Speedway Club restaurant, which has a view of the 1.5-mile racetrack. By the waves of Lake Norman is where Ricky Bobby wants his famed dream home.
American Animals, Shots Fired, Homeland, and Paper Towns are some further noteworthy films and television programs.
Another film made there is Careful What You Wish For, starring Nick Jonas. Fans saw him in a number of restaurants in and around Birkdale Village. He was such a regular at Bad Daddy's Burger Bar that they briefly sold a Slick Nick Burger! In case you were curious, the delectable turkey burger included Monterey Jack Cheese, Jalapeno Bacon, Fried Egg, lettuce, and pickles on a whole wheat bun. Lake Norman is featured in episodes of The Lakefront Bargain Hunt that appear on HGTV during Season 3 Ep. 2 and Season 10 Ep. 12.
The lakefront property on Peninsula Club Drive utilized in the movie stole the stage, but Jessica Chastain won an Academy Award in 2022 for best actress for her portrayal of Tammy Faye Baker in The Eyes of Tammy Faye. The Greater Charlotte area, including Lake Norman, was used to film scenes. The famous house with a view of the lake in Cornelius is where Tammy Faye had a "relaxation room" conversation with her mother.
3. BASKETBALL
Dell Curry, a member of the Curry family who played for the Charlotte Hornets in the 1990s, was born and raised in the neighborhood. His sons Stephen and Seth Curry, the latter of whom is a Davidson Wildcat legend and a two-time MVP, have gained notoriety in their community. He visits Davidson at least once a year and continues to live by the example established by Bob McKillop, the basketball coach at Davidson College.
LaMelo Ball, a rookie for the Charlotte Hornets, was seen in Huntersville, North Carolina, watching Mikey Williams play for Lake Norman Christian. Robert Parish, a former Boston Celtics player and NBA Hall of Famer, lives in Cornelius and would fit right in at the Peninsula with Joe Gibbs and Michael Jordan.
4. FOOTBALL
Will Grier, the current Carolina Panthers backup quarterback, was raised in the town of Davidson along with his brothers Nash and Hayes. He currently resides in the Lake Norman region. A few years ago, Nash and Hayes Grier were among the most well-known "Viners"! Other well-known figures include the late Reggie White, who passed away in his home in the Peninsula in Cornelius, and the legendary NFL coach Marty Schottenheimer, who has a home on Lake Norman. Will Healy, head coach of the UNC Charlotte football team, visited Red Rock's Cafe.
Most notably, top running back Christian McCaffrey just paid $7.5 million for a house on Lake Norman! This is reportedly the highest price ever paid for a lakefront residence. Olivia Culpo, McCaffrey's girlfriend, also shared a photo of their new house on Instagram. During the warmer months, McCaffrey might be hanging around on Lake Norman.
5. NOTABLE APPEARANCES
The famed Kindred Restaurant has served meals to celebrities including Reese Witherspoon and Emma Roberts. Witherspoon had to try Kindred while she was in Charlotte for a book tour. She even shared a photo of herself reading The Last Guest House by local Davidson author Megan Miranda, so you might say she's becoming well-acclimated to the city. Witherspoon's Book Club chose Miranda's book as this month's featured read!
Each year, Main Street Books hosts a large number of writers during their book tours, giving devoted readers the chance to interact with them. Some even release books that have been signed. Davidson College has invited a number of eminent speakers to speak, including Susan Rice, a former United Nations ambassador, and Obama's national security adviser.
As you can see, a lot of well-known actors, athletes, and sports figures have spent time at Charlotte's lakeshore or even made Lake Norman their home. You never know what famous person you'll run across when dining by the lake or signing autographs with NASCAR drivers. You may get a once-in-a-lifetime chance to meet your favorite celebrity in person if you travel to Lake Norman!
Disclaimer: This article was originally posted at https://www.visitlakenorman.org/blog/post/celebrities-in-lake-norman/.